Online Eyeglasses Wall of Frames
Welcome to our hall of fame. An on-line page dedicated to photos of real everyday people wearing glasses and sunglasses from SpecsPost. More recently we have also thrown in some curve balls too to keep it interesting.
Explore, Contribute, Enjoy!
What is it about Michael Caine?
An iconic actor with some classic films - check!
Some endearing, later life roles such as the butler in Batman - check!
Ultra cooky role as Austin Powers Dad in Goldmember - Check!
A nighthood for outstanding contribution to cinema - check!
A great legacy and a great film and photo back catalouge. Yet it suprises us how a whole new generation seem to be discovering him and looking to replicate his 1960 glasses look. Meet 21 year old Matt wearing a pair of Michael Caine style glasses by Specs Post. Still cool - check!
Although maybe not quite so cool when you find out that Michael Caine is his screen name. His real name is (Sir) Maurice Micklewhite!
The next photo is a really arty shot from one of our long term wearers based in Spain.
The photo was actually taken on a recent visit to London and is more about the overall look than the specific eyeglass frame.
The frame featured is our Picolla model. Click on the photos to view the frame up close and personal.
Thanks Lix.
What a great look! Colourful retro wayfarer eyeglasses yet a totally modern look.
Thanks to Lisa for the photo showing us all how you take a glasses selfie!
Want to be featured on our website? Send us a photo wearing your glasses and you too could be featured on our wall of fame!
Always great to see some Specs Post glasses in an iconic place! Meet DJ wearing his AOK Ray Ban style designer presciption shades at the Hoover Dam, Nevada, USA We think these go really well with the Tommy Hilfiger designer Tshirt.
Looking dapper in shades and a suit. We are really grateful to Graeme one of our regular customers for providing us with another great photograph. Obtaining pictures of male customers is always much more tricky than from our female clients, so we would be really grateful for more photos from other happy male SPECSPOST customers. You may even get featured on the product listing!
Unfortunately we have just discountinued this particular prescription sunglasses model, but click on the picture for a very similar wayfarer style sunglasses alternative. These sunglasses are available with normal or prescription lenses - for exactly the same price.*
We love this hat and shades combination. Looking cool on so many levels!
For more great pics like this one check out the Terrible Tumbles blog for lots more cool fun fashion combinations or you can click on the photograph to the left for furthe details of the frame and other elegant ladies sunglasses options.
Thanks to this photo from happy SPECSPOST customer Laura sporting a pair of our Cats Eyes prescription sunglasses (Lovato Dior Inspired Sunglasses.) Laura also purchased a pair of our Farah cats eyes prescription glasses too.
We will see if we can persuade her to send us a photo of her wearing them in due course.
If you love your SPECSPOST glasses or sunglasses then please send us a picture. From time to time we send our happy customers who send us their photos a little suprise!
Finding sunglasses for those with a smaller, face can be a real challenge. We were extremely happy to help the lovely Holly (left) with a pair or our petite wayfarerer sunglasses. These look great on both men and women, we just struggle to find men happy to have their photos taken. If you are not sure then why not try out our free sunglassses home trial service?
Thanks to Sarah Lauren for modelling another of our Cats Eyes frames. This particular model is a little more understated and rounded than some of the more extreme cats-eyes eyeglasses frames. Looks great and a little different without being all-out attention grabbing cat walk extreeme eyewear fashion.
Sharing the sunglasses love! Meet Siobhan Scott the winner of our latest prescription sunglasses give away competition on Twitter. Nice car! If you scroll down through the Wall Of Fame, you will find this is the second photo of a lady wearing SpecsPost sunglasses in a convertable car - we like this theme!
Thanks for the photo Siobhan.
Urban eyewear and glasses are very much in fashion at the moment, but what exactly classifies a glasses frame as urban?
Where does urban fashion end and geek chic begin? Click on the photo for a slightly tounge in cheek article about urban glasses trends. Heavily research based, this article includes inciteful analysis from a very credible fashion authority, none other than our founder's mum!
Buddy Holly, Michael Caine style or retro NHS glasses frames from circa 1960. You decide! Whatever the verdict they are certainly popular - they currently feature in our top 5 best selling men's glasses.
This photo breaks the rules in that it is not a customer wearing their SpecsPost eyewear. However it was taken by a customer whilst on holiday; it was such a beautfiul shot that we had to include it!
Many thanks to beautyinbeta, well worth checking out her blog for some more amazing photographs and her review of Affordable Prescription Sunglasses.
An Uber Swimwear model at the recent Glasgow photo shoot looking smoking hot in her SpecsPost sunnies!
Click on the photo to find out more about this exciting tie up and you could be one of 50 people to get a free* pair of SpecsPost sunglasses from a choice of four options (including the one featured in this photo.)
This week seems to be the week of the big ladies glasses frames. Geek chic glasses are clearly still with us in 2015! Some girls just look better in big, bold spectacles. We believe that women should have as many pairs of glasses as they have shoes or handbags.
Proving that big is beautiful when it comes to womens eyeglasses.
Meet Amy McLoughlin wearing a pair of our frames and proving once again that thick rimmed oversize specs definately still rock! Previously (circa 2011-2013) this style of frame was called "geek style" by the fashion press, it now appears to have been reinvented in 2014 and 2015 as "retro style" glasses. Different name but still a great fashion look for the bold and confident!
The picture to the left is a behind the scenes action shot of the new Uber Swimwear range being photographed in a studio in Glasgow. So what has this got to do with glasses or sunglasses? We are delighted to announce that SpecsPost has teamed up with Uber Swimwear to help accessorize their new cutting edge swimwear range.
Designer Neil Ednie's new collection will be launched on-line in the next few days and the first 50 ladies to order will receive a free pair of prescription or non prescription sunglasses absolutaly free.
Click on the photo to the left for more details.
For our male glasses customers we also have a tie up with a leading mens swimwear supplier. We will be announcing more information on both fronts very soon.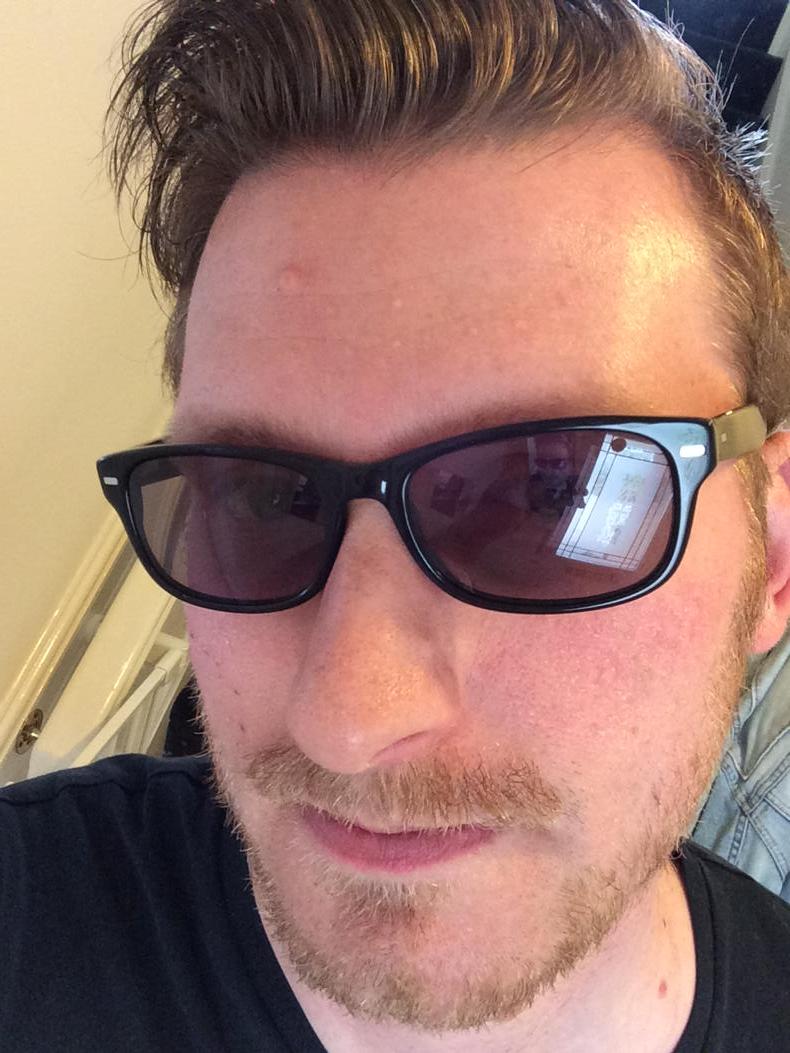 Modern day Thornbirds? This cool due is actually a vicar who just happened to be featured wearing his Specspost glasses in today's Guardian, one of the UK's leading national newspapers. Click on the picture to find out more!
We think Ashleigh-Jayne looks fantastic in her cat's eyes glasses. Ashleigh-Jane is an avid blogger who describes herself as "a tiny little 20 something living in London and working in PR" Her blog "Writers Block and Broken Lenses" is well worth a look, she talks candidly and passionely about the things she likes (Glitter - French movies - nail polish - blue eyeshadow - heels - mini skirts - tattoos - music - Doctor Who - Ted Baker - crafting - that new book smell - dogs and now cat's eyes glasses?)
Meet Rebecca, wearing our Fearne tortoiseshell prescription glasses. We love how the squared off shape instantly adds a hint of retro geek to even a simple outfit. The tortoise colour is super flattering for most people but we think it looks really striking with Rebecca's blonde hair. We're loving the red lips too, a pared down makeup look with a bold lip is a great choice with larger geek glasses styles.
Thanks so much to Mikel for tweeting us this picture of him in his brand new prescription sunglasses. We're hoping for a heatwave in Manchester so that we can get ours out too! No longer a luxury, many Opticians agree how important prescription sunglasses are. Ours start from just £14.99 with free prescription lenses.
Glasses really are a girls best friend. The days of eyeglasses being square are long gone as Laura demonstrates here looking seriously sexy!
Thanks to Megan Butler for sending in this photo, sporting a pair of our sunglasses on a sunny road trip!
This got us talking about road trips and who we would love to go on a road trip with.
I can feel a blog / competition coming on! So watch this space (and our Twitter feed!)
Cats eyes glasses don't suit all face shapes, but as demonstrated by Jessica here, on the right girl they can look stunning. It would also be rude not to comment on those amazing eye brows too (we have some real eyebrow envy going on!)
Look out, the glasses fashion police are coming!
You have been warned!
There is something about "Alfie."
Meet 20 year old Chloe looking amazing in our best selling unisex Alfie frame.
We are now lucky enough tohave lots of photos of ladies modeling this frame (to the point where we may have to dedicate a whole gallery page to this frame alone) but we are yet to get a phot of one of our male customers wearing one.
Can you help?
Meet Carrie modelling her new vintage style frames from our new Ruby and Rose collection. Thanks for the selfie Carrie!
12/02/2014 Whilst female glasses wearers tend to be fairly forthcoming in sending us photos, getting our bashful male customers to send pictures of themselves wearing their SpecsPost glasses can prove a real challenge. We are therefore extremely grateful to repeat customer Thomas Heather for his photo (left) and his kind words:
"Hello Charlotte & All Staff,
I just want to say thank you very much for your excellent customer service in dealing with my latest glasses.....I have finally been matched with the perfect pair of glasses which suit me and are comfortable and were a very good price and the delivery was so quick and I got them quicker than expected. So thank you so much for that. I have attached a photo of myself in the glasses which I would be grateful if you include in your hall of fame and I will most certainly be recommending your website to all my friends and colleagues.
Kind Regards
Thomas"
Sent from my HTC
Every once in a while we see a photograph of someone wearing a pair of our glasses that stops us in our tracks. This is very much one of those occasions! To get a full appreciation, click on the photograph to see a larger, higer resolution copy. This picture also made us think about what exactly are designer glasses? Click on the picture to read more!
SpecsPost customer Elsie models our geek glasses frame with a colourful, red accent colour twist.
This unisex frame looks great on both men and women. We just struggle to get our modest male glassses customers to send us in their photos!
We promise you that whilst she is not smiling in the photo, Elsie does love her SpecsPost glasses. We know this because she posted this photo to her own blog!
"I love the geek chic look frames and decided on a pair of these to try out. All including postage under £20!!! Absolute bargain." This was not a sponsored post, these comments are genuine feedback from a SpecsPost client who also happens to be a blogger. Many thanks Elise! Click here to read Elise's full impromptu review on her own blog.
We also offer this frame in black and orange and black and purple.
The black and purple is the best seller from the 3 colour choices, but all sell pretty well.
Did you know that the 10th most popular reason why people buy glasses on-line is to make themselves look smarter and more intelligent for an job interview?!
There are some amazing reasons why people buy their specs.
Although it did not quite make it into our Top 10, "my dog ate my glasses" is still astonishingly common!
Broken glasses comes in at number 2 of which there are some classic reasons. Some are a unprintable confessions of glasses wearers, some are simply funny, but mostly people need to replace a brokern pair because their originals either get sat on, or else their kids are the culprits! Toddlers just love to grab and mangle glasses frames!
Unsurprisingly, the number 1 reason, according to our own statistics is a recent eye revealing a change of prescription.
Who says Geek Chic is dead in 2014? Choose the right frame and it's a timeless classic!
If you are new to buying glasses on-line then a top tip for both men and women is that for safety, you can't beat classic black frames! They pretty much work with any age range and any outfit from smart through to casual attire and any image from goth to geek! Need help choosing glasses? Click on the following link to get help from our online glasses personal shopper!
Looking great in sunglasses by the Christmas tree. Now that's not a look you see everyday, but we think it's a good one! This could be the unusual Christmas gift you have been looking for. Or if you are anything like me and my Christmas shopping habits you may want to treat yourself!
Sunglasses are not just for the summer. Even if you are not lucky enought to be sking or snowboarding this season, they can look sassy with a smart winter coat too. We offer both prescription and non-prescription shades including a unique range of petite frames for people with smaller faces. All of our products are available to be shipped worldwide.
Meet Mark and Lindsey, wearing their new prescription sunglasses. Mark wears classic aviator sunglasses for a classic, simple style and Lindsey wears blue Azure prescription sunglasses.
Congratulations! You have found Gollum! Now click on his picture to take you through to the caption competition to win a pair of glasses and 2 X tickets to go and watch the New Hobbit Movie "Desolation of Smaug!"
Here's Becky looking fabulous in these two toned geek glasses, featuring a modern take on the classic retro black and clear glasses of yesteryear. The frames have styled up in this picture with a denim shirt layered under a quirky knitted jumper and look fantastic with Becky's pixie cropped hair.
Meet Terri, trying on some of our frame options. Choosing glasses frames on-line can be a bit hit and miss (sometimes) so don't forget if in doubt get a free home trial sent out!
Click on the image to the left for further details of SpecsPost's free home trial service (whilst we deliver world-wide, please note that our glasses home trial is only offered to customers in the UK at present.
Framed by some amazing floral wallpaper and wearing a gorgeous polka-dot dress, Charlotte looks like a movie star in these SpecsPost prescription sunglasses.
Charlotte has opted for a very dark tint, but as with all Specs post products, the lenses are made to your order and are fully bespoke. So you can choose both the tint colour and the darkness of the tint itself. All delivered to your door for less than £30! The amazing power of on-line glasses & sunglasses!
Whilst many people choose fairly traditional frame styles and colours, other glasses wearers look to stand out from the crowd.
Meet Rebecca McDonald wearing a pair of LOL geek style frames in vivid pink!.
This is one of the great things about buying glasses on-line. There are so many more frame style and colour choices than you will find at a normal high street opticians. If you scroll down through our customer hall of fame, you will see what a massive range we have from uber-conservative, to much more unique and rare glasses styles.
Hats and glasses, now there is a subject that invites considerable debate! At last another photograph of a male SpecsPost customer! Our bashful male customers tend to be rather shy when it comes to sending us photos. Kieron looks effortlesley cool here in his Catja knitted hat and round eyeglasses. That's how you do it chaps, please follow Kieron's lead and send us some more photos. Check out our blog for more hints and tips on getting the glasses and hat look right.
In our experience, the majority glasses wearers stick within a very safe colour pallette for their frames. However with on-line glasses shops like SpecsPost offering around 1,500 eyewear styles, there is just so much choice these days, so why not step out of your comfort zone and try something a little more racy! As Chrystal (picture to the left) demonstrates with this lucious red frame, Some of the brighter colours can look fantastic if matched carefully to your individual hair colour and skin tone. And yes this can work for guys too - we just struggle to get more our male customers to submit photos of themselves!
Our next customer photo illustrates the other end of the glasses frame colour specturm. Funky, punky and yet really, really feminine; we think Norther Irish born and bred Zane looks simply amazing in her oversize classic black frames. What a great, unique look. Thanks so much for sharing the photo with us.
The very summery picture to the left of Lucia wearing our "pretty in pink" prescription sunglasses product is another case of eyewear looking better on the wearer than in our product photograph. Click on the image to judge for yourself!
Our next glasses photo features the lovely Sera. There is something really fun and 1950's about the whole picture and the "Shuffle" retro style glasses look great too - thanks Sera!
Don't forget that there are great on-line savings to be made by buying your sunglasses on-line too! Check out these Ray-Ban style prescription shades available at an amazing price point!
Choosing eyeglasses online (or indeed other fashion item) can sometimes be tricky. Glasses frames can look good against a white background or on a beautiful model in an expensive fashion shoot, but what do they really look like on the face of a non-super model like you or me?
How do different frame styles and colour choices work with other fashion items and looks?
Our eyeglasses wall of frame(s) is a blend of a gallery and a scrapbook of our customers wearing their eyeglasses to give you a better feel for what the glasses actually look like on and to be honest it's also good fun! Most of the pictures have a link through to the product or a blog article with a story or some relevant eyeglasses fashion tips.
"YOUR GLASSES COMPANY
NEEDS YOU!"
More customer photos
REQUIRED
We are seeing an increasing demand in the marketplace for celebrity glasses look alike frames. Our team will try and bring you as many as possible as we match our frame to the celebrity looks. Here is one to kick off with. It's a "New Girl" AKA Zoe Deschanel style frame, worn by two of our customers.
The term "Geek Glasses" is becoming something of a catchall for most acetate glasses these days, as the high street opticians chains start to jump on to the band-wagon. In it's original pure form, it refers to a frame style genre of big, bold, plastic/acetate frames with a slightly retro feel.
From time to time we will give away a free pair of eyeglasses or prescription sunglasses for the best photo or video sent in of a SpecsPost customer wearing their online purchase. "It'a a glasses competition Jim, but not as we know it!"
Ladies - Check out our tips for wearing the geek glasses look by clicking on the photo above.
Gentlemen, looking for geek glasses fashion tips, read our blog "Do guys suit geek glasses?"
We offer a free glasses styling service. Simply give us a call or send us an email and ask to speak to our glasses fashonista Charlotte.
We also sell plenty of men's glasses too (many thousands of pairs!), but getting pictures of our male glasses wearers can prove rather more of a problem! To the left is a picture of Michael after we shipped a pair of classic black geek eye glasses over to him in Norway. Thanks Michael!
Whilst we are in based in Manchester UK and ship our glaze and dispatch our glasses frames and lenses England, our website is hosted from a server in Germany and our eyewear products come from Italy, France, China and many other countries; our glasses get ordered and shipped pretty much throughout the world these days!
After previously having had a dearth of photos of our male customers wearing their eye glasses, we suddenly seem to be trending on photos of male glasses wearers with beards! So what do you think ladies, do you like bewhiskered men in spectacles? Is the beard-glasses combo a good look?
nce of 4 photos, which smacks of
On the right face shape, round eye glasses can look both timeless and funky as this photo from a US based SpecsPost client illustrates.
Great look, great attitude, great glasses!
To see further details on this "lyte" glasses frame from SpecsPost simply click on the picture to the left. This frame
comes in a variety of different colour options.
In the last 3 photos we have seen a bohemian bunch of glasses customers from London, Norway and the United States. That's one of the fun things about running a fun, young online glasses shop, we never quite know where our next customer is going to come from!
Some girls just look better in glasses! There is something rather alluring about this photo of Daniella, wearing a slightly serious face but with a subtle hint of a smile (think Mona Lisa) and of course great glasses! We would like to think she's feeling a little smug because she just bagged an online glasses bargain from a great little mail order firm in Manchester!
There is something amazingly retro about this photo, I think I would date it around the
early 1980's if I was trying
to guess the decade. Amazingly this if a photo of
one of our
customers taken in January 2013! Personally I love the 80's and think these large round eye glasses look amazing (but maybe I am just showing my age!) I will let you decide!!!
OK,OK I can't believe I am saying this, but after being asked for the umpteenth time whether we can have a guy or a gals email address or phone number! We do NOT offer an online glasses wearers dating agency! If you find people other people attractive or sexy wearing glasses we are really pleased for you - we love glasses too, but we cannot make introductions!
Abigail Price from London looking great
in her new
glasses purchased online from SpecsPost in January 2013. Click on the photo to see further details of the duo two tone brown glasses frame model she purchased.
Thanks for the photo Abi, we love the coat and think that it's a neat touch that you sent us a duo photo to match the duo eye glasses frames you bought!
At last, some more mens glasses photographs and some seriously different fashion and frame styles to compare and contrast.
Once again we seem to have a very high percentage of glasses wearing men with beards, designer stubble or facial hair of some description. Does anyone have a sensible theory or hypothesis on this please? To date we have not been able to understand this trend.
These pictures are all original photos of real people, Not Models wearing eyeglasses from Specs Post.
Why is it that some people just look better with eyeglasses on and eyeglasses become a key part of their personal image, something that you can't image them without? For others glasses can provide a great change of image for example we get customers specifically buying glasses from us online to wear for job interviews. We know this because we often help customers find the right frame for their desired look and budget.
Each picture has a story, product

detail or an article containing some eyeglasses fashion advice in relation to the wearer or the glasses frame. Why not click on an image and find out more?

So far the photos of our glasses wearers that we have received via email are rather dominated by the ladies, so any pictures from brave men out there would be greatly appreciated!
Eyeglasses and the people who wear them come in all shapes and sizes, different people seek to achieve different looks. some people use eyeglasses to make themselves look more intelligent, for others eyeglasses make them feel attractive and interesting. Historically it has been difficult for people to find decent frame styles in smaller sizes, so here at SpecsPost we are working really hard to offer great looking optical frames and prescription and non-prescription sunglasses frames in petite sizes. You will find the biggest range of frames in smaller sizes right here, nearly all available for you to check out via our home trial service.
Our gallery of eyeglasses is a celebration and hopefully a help for people looking for eyeglasses fashion ideas and those looking for a particular type of frame style. Don't be shy we love you all!
Online Eyeglasses Wall of Frames